Museum of the Origins of Man
NAKED FEMALE FIGURES (CALLED VENUSES) WITH TWO-FACED HEADS IN PALEOLITHIC SCULPTURE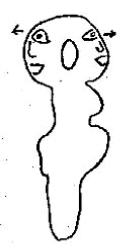 Fig. 8.7) Anthropomorphic two-faced lithic sculpture.It represents a smallest Venus with two-faced head. With reference to this sculpture, conjontly to another two-faced (Fig. 6,5) and to a perforated feline mask, small and wide cm. 2.3, we have the suspicion that they are false sculptures of the nineethent century (Opinion by P.Gaietto). The motivations of the suspicion are:
1) the three little sculptures are made in green yellow serpentino, extraneous to the zone. To the contrary, all the other Venus of the Jullien Collection are realized with materials of the zone;
2) In that time, Man of Grimaldi, of which skeletal rests have been found, was believed " a negroid ", and these three sculpturines have likenesses with the wooden sculpture of central Africa;
3) These sculpturines are so small as jewels for woman; the little mask has quite eyes of cats, as in fashionable illustrations towards the end of the nineteenth century;
4) the three sculpturines are totally nonexistent in the typology of the sculptures of upper Paleolithic.
This is only a suspicion by P.Gaietto. We recommend to see in any case the sculptures, as all the other Venus from the Jullien collection are beautiful and important. Also the three " suspect " sculptures are beautiful. If they were false, the man which made them has had great fantasy and good culture, in how much he has mixed a compound of paleolithic art, and a compound of recent African art.
Size of the two-faced Venus : height cm. 2.75.
Origin: Caves of Balzi Rossi, Grimaldi, Imperia, Italy.
Cultural attribution: upper Paleolithic.
Dating: from 28,000 to 22,000 years ago.





NEXT


Index


HOME PAGE

Copyright©1999-2009 by Museo delle Origini dell'Uomo, all rights reserved.