Museum of the Origins of Man
A NAKED WOMAN (VENUS) JOINED AT THE NECK AND FEET TO A MAN-ANIMAL HYBRID IN PALEOLITHIC SCULPTURE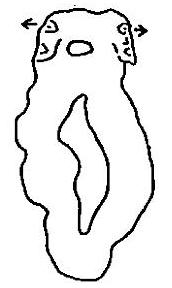 Fig. 6.5) In the drawing, a very small zooanthropomorphic stone sculpture depicting a woman (left side), with breasts and belly slightly prominent, joined at the neck and feet to an artistic man-animal hybrid, inferred from the head and by how much the mixed attributes are represented. The hybrid head measures less than 0.40 inch. It is not excluded that it is fake, as towards the end of the 19th century, when it was sold, there was a sizable market in fake artifacts.Size: 1.9 inches in height.
Origin: Balzi Rossi, Imperia, Italy.
Material culture: Upper Paleolithic.
Jullien Collection.






NEXT


Index


HOME PAGE
Page translated from Italian into English by Paris Alexander Walker.


Copyright©2020 by Museum of the Origins of Man, all rights reserved.