Museum of the Origins of Man
NAKED FEMALE FIGURES (CALLED VENUSES) JOINED THROUGH NAPE AND FEET TO AN HYBRID MAN-ANIMAL IN PALEOLITHIC SCULPTURE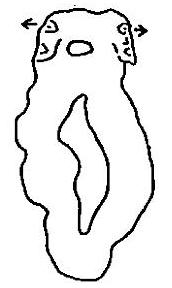 Fig. 6.5) Zooanthropomorphic lithic sculpture (Drawing). It represents a woman (left side) joined through nape and feet to an artistic hybrid man-animal.It is desumed from the head, as only mixed attributes are represented . The hybrid head measure less than 1 cm., therefore, who want to be documented, had to see the original sculpture in photography. It is not excluded that the sculpture is false, in how much back the end of the nineteenth century, when it has been sold, there were a collectionism and a market with false.
Size: cm. 4.7.
Origin: Balzi Rossi, Imperia, Italy.
Material culture: upper Paleolithic.
Jullien Collection.






NEXT


Index


HOME PAGE

Copyright©1999-2009 by Museo delle Origini dell'Uomo, all rights reserved.