Museum of the Origins of Man
HUMAN PHALLUSES IN PALEOLITHIC SCULPTURE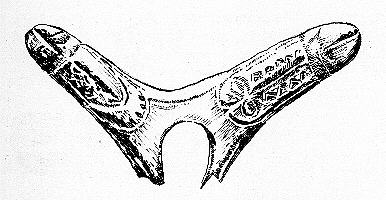 It represents a double phallus, with added decorations.
In upper Paleolithic other small phallus have been found, used as pendant, but this is the only double.
Size: lenght cm. 9.5,
Origin: Gorge d' Enfer, France.
Current placing: ?
In France, this double phallus carved in bone, as definition, re-enters in the art mobilier. The Civilization of upper Paleolithic that in France produced art mobilier, did not work the stone, neither made sculptures of great dimensions.




NEXT


Index


HOME PAGE

Copyright©1999-2009 by Museo delle Origini dell'Uomo, all rights reserved.